New parts catalog! Doing a professional job – with the right tools.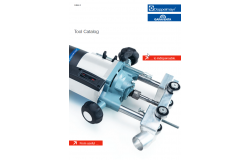 Doppelmayr's customer support staff provide assistance for operations managers and their teams in the day-to-day running of their ropeway installations – worldwide. We have compiled a comprehensive catalog to make sure that you have the right tools for the job. Here you will find the appropriate tools that will enable you to carry out your work professionally, speedily and, above all, safely. Having the right equipment will not only boost the competence of your personnel but also reduce running costs.
This catalog contains very few conventional tools of the type that you are already familiar with. Here you will find special tools which have been designed and built specifically for use on your ropeway. To keep the catalog as lean and as easy to use as possible, the emphasis has been placed on the most important and the most frequently used tools.
Our catalog is available under « Library – Brochures & Manuals » found here at the top page.
For special inquiries or further information on individual articles or services, please contact a member of our customer support staff direct.
We hope this catalog will prove to be a useful and effective aid in your daily operations.
All news