The new WIR is available!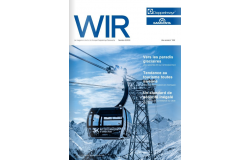 We invite you to read the latest issue of the WIR magazine with a unique article on Doppelmayr Cananda that refers to our North American branch located in Saint-Jérôme being not only a production location but also a historic element in the creation of innovations and world records.
It's exactly 15 years and 46 issues since our WIR customer magazine (the abbreviation of the German word Wirtschaftsring which means "We") underwent a comprehensive makeover in terms of design and layout.
Click here to read, download or print the most recent WIR magazine as well as previous issues.
All news